Riding the Hashtag: Is Real-Time Marketing Right for You?
November 18th, 2017
4 mins READING TIME
Real-time marketing puts a whole new spin on "news you can use."
It's all about exploiting current events and cultural buzz to connect with your consumers on social media. Contributing to conversations that are already happening. Think:  trending hashtags, viral memes, surprising headlines. And adding a twist that cleverly promotes your brand.
Done well, real-time marketing can be witty and effective.
Like this famous tweet from Oreo, sent while Superbowl fans endured a stadium blackout, delaying game play: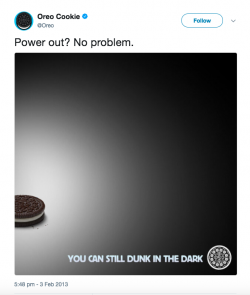 Perfect, in-the-moment marketing that puts a grin on frustrated faces. And gets shared thousands of times, instantly extending reach. For free.
Now, you don't have to always be on-the-fly brilliant to win at real-time marketing. You can prepare for spontaneity.
Surely NASA brainstormed multiple ways to play the Academy Awards, no matter how many "Gravity" won: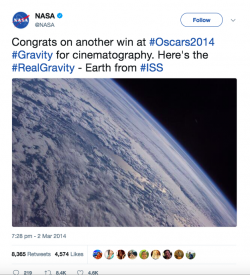 Rewarding, but also risky
Real-time marketing is like jumping into any conversation. Unless you're a boor, you must first ask yourself:
     

Am I about to add something valuable here?

     

Or am I hijacking this convo to appease my ego?

     

And possibly display my ignorance?
Like Delta's attempt to exploit a World Cup score, using a pic of a giraffe to represent Ghana: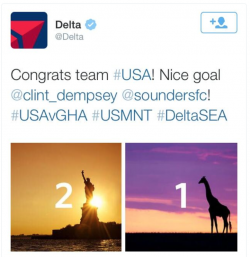 There are no giraffes in Ghana. Many consumers pointed that out, forcing Delta to apologize. #Fail.
As with all things marketing – especially on social media – just because you can do something, doesn't mean you should.
Here's how to know whether (and when) to give real-time marketing a go.
Be true to your brand
Let's remember:  presenting a consistent brand personality is crucial to your long-term success.
If you're using social media marketing well, your posts and updates encourage conversation with consumers. And your tone and style strike similar chords, no matter the topic. People start to feel they know what you're about, and can count on you.
So, if your brand personality is helpful and no-nonsense, how will a flirtatious post related to a sexy scandal be received?
Or, if it's all about fashion and pop culture, what happens if you swoop in with a jab on a very serious political issue?
Confusion at best. Dismissal at worst.
Do what you like with your personal accounts, but when you're on social media as your business, for your business:  Be true to your brand persona.
Care about what it cares about. Be clever while staying in your lane. Provide a bit of value – including a laugh – where the context and the endgame fits with your overall strategy to reach your targets.
Real-time marketing may be fun, but it is still marketing.
Plan to be spontaneous
Oxymoronic? Try strategic.
Plenty of effective real-time marketing plays can be thought through in advance of major cultural events like TV finales, championship matches, awards shows, Olympics, royal weddings, holidays and such.
Think ahead.
Borrow the magazine publishing tradition of an editorial calendar. Meaning, map out upcoming news that might provide a tie-in to your brand's story.
Like this advert for The Sun newspaper, run the day Prince William was born: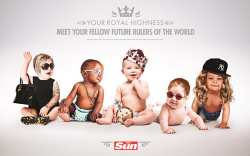 You might dream up several ways to quip on a given outcome.
For example, if your target consumers are also fans of "The Bachelor", you could put together a post congratulating the winner and another one commiserating with the loser. You're ready to engage no matter what happens during the big episode.
Seize the moment
Now, there's an art to timing these posts.
You can plan carefully. You can be alert to the day's trending topics. But to make a powerful real-time marketing play, you must strike when the conversation is hot, or even better, as it's heating up.
If your post hits as the topic is rising in importance, it's more likely to be shared.
Imagine:  People are just starting to talk about something that's happening…and boom! There's your post – articulating a sentiment folks didn't know they had, making the perfect retort or providing a surprising twist on the situation.
That's content people instinctively want to share. And will.
Tips to #Winning
If real-time marketing [RTM] feels like a good idea for you, or at least worth an experiment, keep these tips top of mind:
Be early

Be relevant

Be constructive

Be authentic to your brand

Be attentive and responsive to the overall conversation

Be ready to switch gears as news evolves

Be open to better uses of your marketing energies if RTM isn't connecting as you hoped
If the news fits, USE it.